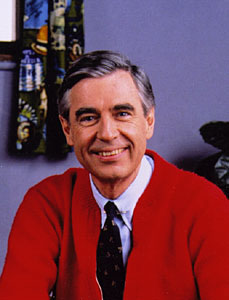 Fred Rogers
By
Jill Slattery
: The beloved children's television host gets the autotune treatment in a new viral video called "Garden of Your Mind," which remixes classic Mr. Rogers musings and pearls of wisdom into a slow jam. The best part of this little gem of nostalgia? It has full PBS approval!
A PBS spokesperson told the
Los Angeles Times
that the video, which was created by John D. Boswell (aka "melodysheep"), is the first of several that will feature the network's classic children's shows getting the autotune treatment. Does that mean Ernie's "Rubber Ducky" will become the party jam we always knew it to be? Let's hope.
Mister Roger's Neighborhood
aired from 1968-2001. Fred Rogers passed away in 2003. You can take a walk down memory lane by checking out "Garden of Your Mind" below!
Read here.
Mister Roger's Neighborhood