drone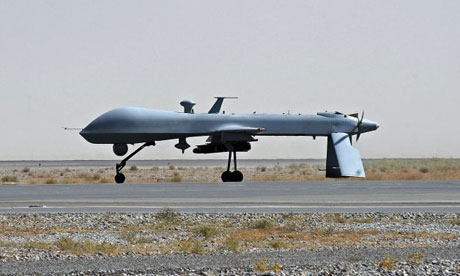 BBC News
US officials said Libi was the target of an attack which hit a volatile tribal area of Pakistan's north-west, killing 15 suspected militants.
There has been no confirmation of his death from sources in Pakistan.
According to officials, he played a critical role in the group's planning against the West.
"There is no-one who even comes close in terms of replacing the expertise al-Qaeda has just lost," the US official told the BBC.
The official added that al-Qaeda's leadership "will be hard-pressed to find any one person who can readily step into [Libi's] shoes"...
Read here...
.
Barack Obama: Drone Warrior,
WASHINGTON – A very strange story, a 6,000-word front-page New York Times piece on how, every Tuesday, Barack Obama shuffles "baseball cards" with the pictures and bios of suspected terrorists from around the world and chooses who shall die by drone strike. He even reserves for himself the decision of whether to proceed when the probability of killing family members or bystanders is significant.
The article could have been titled "Barack Obama: Drone Warrior." Great detail on how Obama personally runs the assassination campaign. On-the-record quotes from the highest officials. This was no leak. This was a White House press release.
Why? To portray Obama as tough guy. And why now? Because in crisis after recent crisis, Obama has looked particularly weak: standing helplessly by as thousands are massacred in Syria; being played by Iran in nuclear negotiations, now reeling with the collapse of the latest round in Baghdad; being treated with contempt by Vladimir
Putin
, who blocks any action on Syria or Iran and adds personal insult by standing up Obama at the latter's G- 8 and NATO summits...
Read essay here...