Bruce Almighty looks like Kitty Mittens. Bruce brings a tear to my eye. I feel sad and very angry. Get well soon Bruce Almighty.
By Rachel Psutka, Leader-Post:
REGINA — A fluffy black and white cat with a raspy meow and the will to survive is facing an almighty battle after he was found in a northwest Regina neighbourhood with electrical tape wrapped tightly around his limbs.
Named Bruce Almighty by the after-hours emergency animal protection officers who rushed to his aid Wednesday evening, the two- or three-year-old cat has extensive damage to his legs and paws after the cruel and deliberate act, Regina Humane Society executive director Lisa Koch said.
"I think that it had been a tremendous struggle for him," Koch said. "Our officers see a lot of terrible things and at that moment when he collapsed in their arms, he knew he was safe. That's when they named him Bruce Almighty, because they knew that he had a lot of fight in him. When he arrived at our shelter he knew he was safe and he could quit fighting, and we could start fighting for him."
Bruce Almighty looks like Kitty Mittens. Bruce brings a tear to my eye. I feel sad and very angry. Get well soon Bruce Almighty...
Continue reading, photos, video...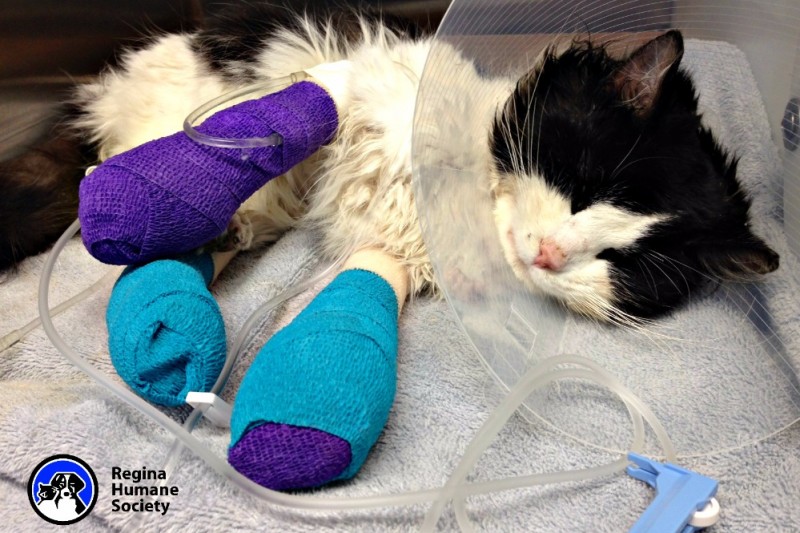 Help Bruce Almighty Recover
Karen Dackiw:
This campaign is being run by the Regina Humane Society. The page organizer is an employee of the Shelter.
Bruce Almighty was found on the evening of March 18, 2015 in Regina, SK, Canada when he wandered into a yard in the northwest area of the City. Gravely concerned by what they saw, the homeowners immediately called the Animal Protection team at the Regina Humane Society.
Officers responded and the young cat, estimated to be between two and three years old, was found with electrical tape tightly bound around his legs and paws. The tape, which had severely restricted circulation over time, had caused massive tissue loss and infection in the extremities. The cat, who had no identification, collapsed into the arms of officers late Wednesday evening and purred as they began the delicate process of removing the bands which had destroyed his limbs.
"Bruce Almighty" named for his fierce determination and will to live, underwent hours of emergency surgery as RHS veterinarians attempted to save his legs. While the Society is hopeful that enough healthy tissue remains to keep his legs and the infection can be treated, his status remains very guarded.
"The pain and suffering he has endured is unimaginable" said senior RHS Animal Protection Officer B. Lerat. "He is fortunate that a caring member of the public alerted us to his whereabouts. The public really is our eyes and ears when it comes to reporting cases of neglect and abuse involving animals."
We are seeking to raise funds to help cover the significant cost of Bruce Almighty's treatment and recovery. It is expected that one of his legs will need to be amputated by Shelter Veterinarians and he will need ongoing wound and infection care. Any donation, no matter the size will make a huge difference for Bruce Almighty. Any money raised in excess of the goal will be used to help other animals at the Shelter in need and will also be used to provide further animal protection and cruelty work by the RHS.
The Society receives no government funding for enforcement of animal cruelty laws and relies solely on its community of donors to continue this important work.
All donations will receive a tax receipt from the Regina Humane Society.
This case is being treated as an open investigation we urge anyone who recognizes the cat or knows anything about the case to please contact Regina Humane Society's Animal Protection Services.
http://www.gofundme.com/brucealmighty